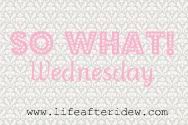 This week, I'm saying "So what?!" if...
...I go to Oxford every off day that I can? I kinda like seeing my boyfriend (who wouldn't when you have a bf as amazing as mine?!) and I just kinda like spending time with my beautiful bffs/wonderful sister who still reside in my favorite town.
...I shed a tear or two when hearing that my sweet little Daddy sent my Mama flowers for the 26th anniversary of their first date. Precious? Yes. Tear-worthy? Yes. That the kind of love I hope for.
...I did psuedo (a.k.a. Rachel's version) water aerobics in my neighborhood pool this morning? I may have looked like a Mawmaw poolin' it up in my athletic one piece (couldn't have a Janet Jackson moment while working out) but I just had to spice up my workout routine. And I must say, these glutes of mine are a bit sore!
...I only drink water that has Crystal Light in it now? Plain ole H20 gets super boring day after day...gotta give it a little umph in order for me to keep consuming it. Is it possible to become addicted to it? Because if so, I am, for sure.
...I've already planned all of my outfits/all of our beverages/every second of every day for the beach next week? A girl's gotta have something to look forward to...
...I've had Dave Barnes' song "Amen" on repeat for the last hour? I'm sure my coworkers are sick of hearing it but I'm kinda in love with the lyrics. Sweet, sweet song. What can I say? I'm into love songs lately :)
...my refrigerator holds basically nothing but mini-cupcakes, wine, and some cream cheese? Isn't that all you really need in life anyway? Conducive to my diet? No. Delicious? Yes.
What are you saying "So what?!" to on this fabulous Wednesday?