Sweet Friday, welcome. I welcome you with open arms this morning...it's so nice to see you, finally! And good morning to each of you pretty ladies!
A little Friday letters to celebrate the TGIF mood I'm currently in...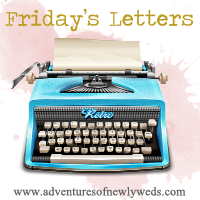 Dear Humidity,
Must we always have such a hate/hate relationship? I let my hair get super long for a reason...and now you've shown up with a vengeance and have made my straightener's job null and void. Thanks for the sweet 'fro you give me. Let's compromise...you can take half the week, and the other half, I'll have pretty, straight locks. Got it?
Frizzy but still fabulous,
AfroGirl
Dear Rebel Baseball,
Don't break this fan's heart this weekend. Think we can pull out a few wins? For me? Puh-lease? This fan is dying for some good baseball. After the past two weekends with only a few W's sprinkled in, I need a good sweep. I'm in the mood for a Hog roast, aren't you? Hotty Toddy, y'all!
Getting the broom ready,
#rebelfanatic
Dear BarreAmped,
I'm joining your class for the first time today and I'm super nervous, but really excited for a new workout. My sister promises that you deliver...let's hope I agree. And let's also hope I can be a little graceful and not be the klutz of the class! After Jillian killed me on Wednesday, I may not be able to move tomorrow. But that's okay. All in the name of fitness! #skinny
Looking forward to today,
Skinny girl wannabe
Dear Mr Grad School Interviewer Man,
Thanks for not making my phone interview miserable...and thanks for approving me for the final step of the application process. One more check mark to get through, and then I'm on my way to getting my Masters in nursing...nurse practitioner, here I come! Mr. Man, please keep me in mind during the last step...I so desperately want to get accepted!
Fingers crossed,
Future (hopefully) FNP
Dear Sonic,
Must you make your breakfasts look so appealing? I had to control my hands to prevent from turning into your driveway this morning. Mmmm, tater tots. MyFitnessPal wouldn't quite like that to show up in there today...so instead I will go for an egg white omelet and fruit. Just doesn't quite have the same appeal as a fried potatoes and bacon, though, does it? My ass will thank me later, hopefully.
Wishing Sonic was calorie-free,
Hungry, hungry Hippo
Dear Budget,
I don't like you. I don't like you one bit. I dislike saving money. I know you're going to benefit me in the long run, but geez, if Tory Burch sends me ONE more email, I may just break down. Must keep saving. Must keep saving. Must not buy designer shoes. I love you, budget, but I hate you more.
Failing at being Frugal,
A Confessed Shopaholic
Dear Gavin DeGraw,
Thanks for blessing our little town with your presence tonight...I'm so looking forward to enjoying your sexy voice while in my favorite spot (The Grove) with my favorite people. It's bound to be a wonderful night...as long as you sing all of my favorite songs. I'll meet you with a set list at the Union beforehand. Thanks for your cooperation, it is greatly appreciated :)
You better play "Belief",
A loyal (and a little obsessed) fan
Dear Mr. Walker,
I am so thankful for you. How did I get so lucky to snag you as a boyfriend? You are the best part of my every day. I love the moments we have together, and I'm thankful for every moment we have. You only have a few more weeks til graduation, then grad school is DONE! Mr. MBA--so PROUD! You're the best guy I know. Thank you for loving me.
Your girl always,
Rach
Happy Friday, loves.
Hope your weekends are filled with happiness and joy :)